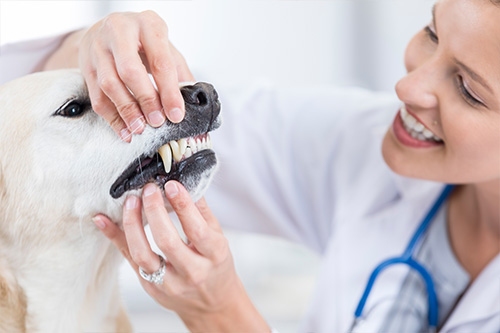 Routine dental care is one of the most important aspects of maintaining a pet's overall good health. Tartar build-up on teeth can lead to a wide variety of problems including:
Throat infections
Chronic cough,
Heart problems,
Inflammation of the mouth and gums, and
Difficulty eating
Bad breath and loss of the teeth themselves
Brushing is one way to help keep teeth clean, but this is not always feasible and might not be sufficient on its own. We offer ultrasonic dental cleaning to remove tartar from your pet's teeth and determine if any teeth are loose, broken or need to be removed due to damage or infection. If left untreated, dental disease is likely to result in significant problems which can make your pet very uncomfortable or sick (not to mention bad breath!). Give us a call if you would like more information – we'll help you keep your pet's pearly whites sparkling clean!
Before & After dental treatment